Who says vinyl is dead? Another album shop is on the move in Northwest Georgia, this time RockNShop, which offers "framed concert posters, vintage vinyl from the '60s, '70s, '80s and more, (plus) music memorabilia, movie posters." The shop currently is at  Copperwood Company but is moving next month to at West End Commons, suite 103 (between Angelo's New York Style Pizza and Bistro and Riley's Menswear).  Another vintage shop, Rome's Finest Music, has moved from Turner McCall to 307 Broad St.
---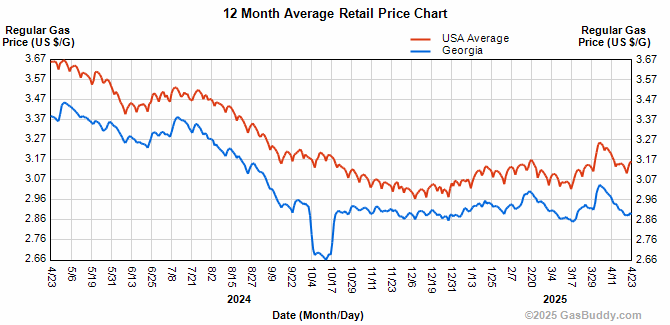 Georgia gas prices up 25 cents a gallon in a month: The highest gas prices since Labor Day are being spotted across Georgia with the average price of unleaded now at $2.63 a gallon, according to Gas Buddy. A year ago, we were paying $2.28 a gallon for unleaded. Thirty days ago, the price was $2.38 a gallon. Add a 9-cent jump over the past week alone. On Sunday, the lowest local prices ranged from $2.45 a gallon at the Sunoco on Turner McCall (cash only) to $2.59 a gallon at several spots in Bartow County. Gas prices
AAA says more increases on the way: Pump prices will get more expensive this week, due to rising geopolitical tensions in the middle east. The conflict in Syria sent crude prices to their highest point in more than three years, and as a result, motorists are about to feel the pain at the pump. The national average price for gasoline is the highest in more than two years. Sunday's average of $2.71 is the highest since July 2015. Georgia gas prices are the most expensive since last September, when prices were recovering from Hurricane Irma. Sunday's average of $2.64 is 6 cents more than last week, and 35 cent more than last year. Visit GasPrices.AAA.com for today's state average price.  "Motorists should expect a 15 cent increase at the pump in the short term," said Mark Jenkins, spokesman, AAA – The Auto Club Group. "However, prices could rise even more, depending on how the crude market responds to the latest news of a U.S. missile strike over the weekend."  Crude prices rose more than $5 last week, which was the largest weekly increase in more than eight months. Crude is climbing due to the potential of U.S. sanctions against Syria's sponsors: Russia and Iran. Syria has not exported oil since civil war broke out in 2011. However, the country receives fuel deliveries from Iran.
---
The 2018 edition of the Clocktower Classic Handcycle Race is set for a June 16-17 return to Rome. Look for additional updates soon on Facebook.